Building a startup from an idea can be an exciting adventure that tests resilience, passion, and commitment. It's about creating something entirely new and adopting the right mindset to turn it into a successful reality.
With "Becoming Crono" we'll revisit our starting point through an honest and captivating memoir written by our CTO, Marco Maddiona.
Each month, you'll have the opportunity to witness firsthand the steps that propelled Crono into a startup with a €500,000 pre-seed investment. This will encompass the obstacles we overcame and the choices we made. Have you ever wondered what it's like to develop software while building a business?
Immerse yourself in our new column to find out and draw inspiration from our journey!!!
Episode 1 – From 0 to Crono
Hi Croners, I'm Marco Maddiona, CTO & Co-Founder of Crono. As a full-stack developer, I began keeping a journal right after transitioning from being an employee to becoming a freelancer. Beyond my passion for writing, I felt the need to share my interests and experiences, thus expanding the scope of my business. However, this project soon evolved into something deeper: I didn't want to create just another promotional blog; rather, I aimed to freely narrate my personal journey and potentially inspire those who would read it.
At that time, a period of change was underway, and alongside three other individuals, we were laying the foundation for building Crono. However, I'll delve into that later. Two years ago, I made the decision to become a freelancer, pursuing the dream of establishing my own company. I aimed to gain experience in both the business and technical realms, preparing for the significant leap.
Nonetheless, the life of a freelancer led me towards such a workload that I ended up establishing a software development consulting company. Yet, that wasn't my aspiration; I wanted to create a startup capable of developing software to scale clients. It was an ambitious goal, but I felt as though I had been preparing for it for years, even unconsciously.
Thanks to my participation in Startup Geeks' online incubation program, I crossed paths with Lorenzo Tiberi, who had been a mentor in the same program as Marco Rosmarini. They were both in search of a full-stack developer to assume the role of CTO for their project. Similar to me, after several years of employment, they too sought to establish their own startup.
They had conceived the idea of Crono: a B2B sales engagement platform aiming to revolutionize the market through data utilization and artificial intelligence.
At that time, I didn't know these individuals well, but right from the start, I recognized their experience and knowledge in sales and software. Above all, I saw the same desire to build something remarkable.
Although I wasn't a sales expert, I perceived an opportunity in the Crono concept to apply all the experience I had accumulated. Fundamentally, my role involved creating a platform capable of collecting and synchronizing various data sources, processing them to provide valuable insights for users—a paradigm I had been implementing for years in the context of Industrial IoT.
It was an exciting challenge, and we were filled with determination; we believed we could make it happen.
At this point, I'm confident you'll agree: achieving success demands more than just a good idea, the right professionals, and determination. One must validate the idea and the solution. My new partners in this venture had already conducted market analyses, interviewed various field experts, and sought to understand their challenges and identify potential solutions. Now, we needed to create an MVP (Minimum Viable Product) to validate our hypothesis with potential clients.
And here is where I come into play. During that period, I juggled my freelance projects, striving to complete them while also dedicating time to Crono. In the past, I had developed MVPs for potential startups, without achieving much success. Therefore, I was well aware of the risk involved in diving entirely into an initial-stage project, forsaking all other initiatives. I began working during evenings and weekends, putting many other activities on hold, even though it wasn't easy to manage my freelance job and work on the startup simultaneously.
With time, I managed to deliver more and more projects, finding time to devote to Crono. We set an ambitious goal of having an MVP ready by July 2022, with the intention of presenting the solution to potential clients within our network.
During the summer, Alex Roggero, a friend and former colleague of Lorenzo, joined the team. He was an expert in sales, marketing, and networking. Having worked for years in software-related roles and startups, connecting bright minds and catalyzing the birth of numerous promising initiatives, he brought invaluable experience. 
The team was now complete: we recognized our capabilities, trusted each other, and relied on our skills to oversee different aspects of the future Crono. Much remained to be built, but our excitement was palpable.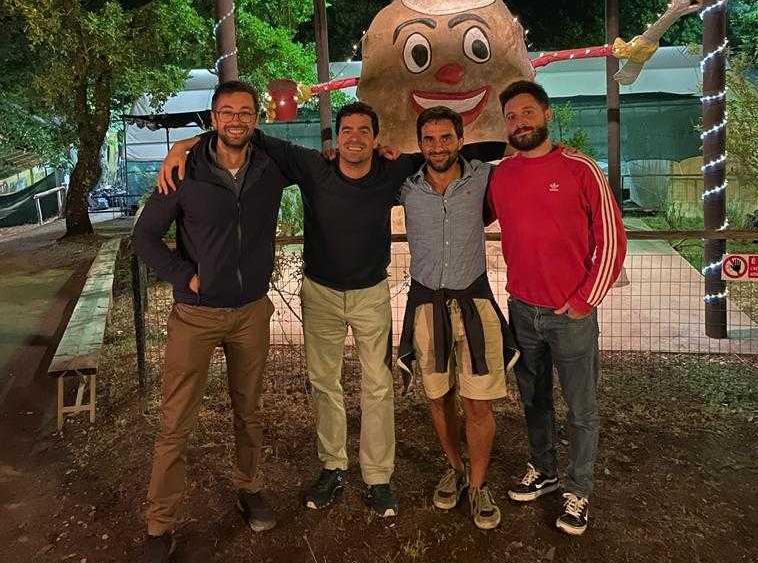 Crono is software that aids the sales departments of B2B companies in identifying new potential clients. As we sought our first clients, we decided to put the software to the test. If it benefitted us, it was likely to do the same for other companies. Meanwhile, I was concluding most of my freelance work, and we had identified several potential clients highly interested in using the solution we were about to release. I was ready to make the definitive leap from freelance developer to full-time startup entrepreneur: Crono was officially born at the end of July 2022.
Developing proprietary software for a customer base differs significantly from developing software based on the requirements of a specific client. In the latter case, the customer specifies their needs, and the developer's task is to create something that fulfills those requests. In the former case, one must design a solution that is flexible and generalized enough to meet the diverse needs of various clients, while always providing a good level of customization through universally usable features. Essentially, there's no room for tailor-made development; everything must be configurable and customizable.
In August 2022, we decided to organize our first company gathering. The goal was to strengthen team chemistry and finalize our MVP, with the intention of delivering it to our inaugural client in September. Both objectives are crucial in a company: fostering collaboration with a shared business vision and building the dream team.
What better place than the Tuscan countryside, at the foot of Mount Amiata, Lorenzo's hometown? Amid village fairs and ocean swims, we could work side by side for a week. I witnessed the first users of the solution I was developing using it alongside me (yes, my co-founders). For a CTO, optimizing the initial version of one's software and refining the recommendation algorithm is immensely gratifying.
During that intense week of work and fun, our idea materialized before our eyes. We began plotting our next steps: launching the product, acquiring initial clients, planning events, and seeking funding. Our adventure had only just begun.
I'll return with the next episode in a month. Meanwhile, if you enjoyed reading "Becoming Crono," share it on your favorite social platforms and keep following our blog!